Green group wins in air pollution court battle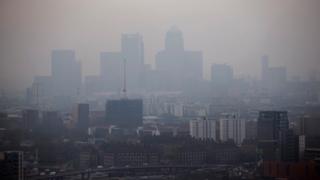 Campaigners have won the latest battle in a legal action against the UK Government over levels of air pollution.
A judge at the High Court in London ruled in favour of environmental lawyers Client Earth in the judicial review.
The group called air pollution a "public health crisis" and said the government has failed to tackle it.
The ruling called the government's plan "woefully inadequate".
Client Earth won a separate, Supreme Court ruling against the government in April 2015.
That judgment ordered ministers to come up with a plan to bring down air pollution to within legal limits as soon as possible.
But Client Earth was dissatisfied with that plan, and took the government to the High Court in a judicial review.
In the ruling on Wednesday morning, Mr Justice Garnham said the 2015 Air Quality Plan (AQP) failed to comply with the Supreme Court judgment and EU directives.
Furthermore, the ruling said the government had erred in law by fixing compliance dates based on over-optimistic modelling of pollution levels.
Follow Paul on Twitter.