Michael Barrymore to get damages over rape and murder arrest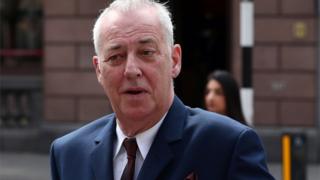 The entertainer Michael Barrymore is to get "more than nominal damages" after claiming his wrongful arrest by police destroyed his career.
The 65-year-old was detained ten years ago on suspicion of the rape and murder of Stuart Lubbock.
Mr Barrymore, 65, who was not present for the decision, values his claim at more than £2.4m.
Essex Police admits Mr Barrymore's arrest was unlawful. A figure for the damages to be paid is yet to be set.
Live: For more on this and other stories from across Essex
Mr Lubbock's body was found in the swimming pool of Mr Barrymore's home in Roydon, Essex, in 2001.
Mr Justice Stuart-Smith, sitting in London on Friday, ruled against the force, which had argued Mr Barrymore should only receive a nominal payout.
The judge did not decide on the sum to be awarded, as his ruling dealt only with the preliminary issue of the level of damages to be awarded to Mr Barrymore, who brought the action in his real name, Michael Ciaran Parker.