Former Morrisons chairman Sir Ken Morrison dies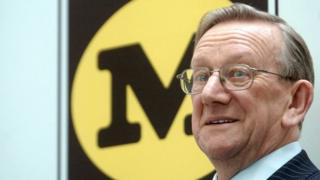 Sir Ken Morrison has died aged 85 following a short illness, his family said.
Mr Morrison helped grow supermarket Morrisons from a small grocery chain into one of the UK's largest retailers.
He died peacefully at home in North Yorkshire with his family, they said in a statement.
"Sir Ken was, of course, a unique figure in the history of grocery retailing in the UK," his family added.
Sir Ken was well known for being forthright in his views, once telling shareholders in very strong language that he disliked the former chief executive Dalton Philips' turnaround plan.
He said: "The results were described by the chairman and chief executive as 'disappointing'. I personally thought they were disastrous."